Welcome to our web site. We are a small but select kennel situated on the Mid North Coast of N.S.W ,breeding quality Rhodesian Ridgebacks for type and temperament. All breeding stock are hip/elbow scored and DNA health screened . Our puppies are lovingly raised in a family environment with an emphasis on socialisation with children and other animals. Feel free to have a look around and contact me if you would like to know more!
Warning from DOGSNSW
Sadly it has become more and more apparent over the past few months that puppy scammers are out there in large numbers scamming thousands of dollars from unsuspecting, prospective and often naive people each month.
It is understood that as soon as one scammer site is reported and shut down, another site opens.
If, or when a person contacts you please, even if you don't have a litter or are planning to breed, please alert people to scammers and that they they need to be mindful and on guard when contacting people advertising puppies for sale. The scam sites have wonderful photos of delightful puppies and paint glowing pictures to the uninitiated, unsuspecting potential puppy owner.
Please refer people to a DOGS NSW breed club, who have members that can provide guidance and direct them to DOGS NSW accredited breeders. Tell them to ask questions, speak to people - not just send texts or emails.
It really is the buyer, not knowing any better, falling for these scams. We have an obligation as responsible dog lovers, members and breeders to guide and educate people in how to tell the difference between a scammer (who in reality is a criminal) and a real registered breeder.
Importantly, if you become aware of a scammer you can report them to https://www.scamwatch.gov.au/report-a-scam
At the October 2019 Rhodesian Ridgeback Club Saturday show Bella,Cedarrose Plunder The Throne was awarded Best Puppy In Show by Judge Mr Neil Kay South Africa. Mr Kay also awarded Cadie, Cedarrose Ona Blue Tempest second in Junior bitch class and her father Jock, Ch Cedarrose Ona Promise AI second in Bred By Exhibitor class. Reba Cedarrose Jumping Jewelry was third in Intermediate bitch class.
AT the Rhodesian Ridgeback club October 2019 Sunday show Ulo, Cedarrose Promises Of Injubulo Ai was awarded Best Australian Bred in Show by Judge Mrs Sarka Stusakova (Czech Republic) her litter brother Jock, Ch Cedarrose Ona Promise AI was also awarded second in the Bred By Exhibitor dog class and mother Lucy, Ch Cedarrose Karma Suitsya was third in the Open Bitch class.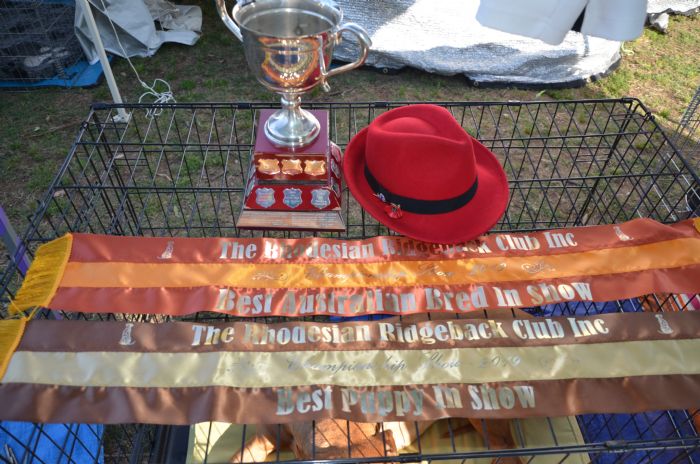 In June 2019 we headed up to The Rhodesian Ridgeback Club of QLD to show at their 26th Championship Show under Judge David Miller (USA).
Jock, Ch Cedarrose Ona Promise (AI) was second in Australian Bred dog class. His litter sister Ulo, Ch Cedarrose Promises Of Injubulo JC (AI) placed in the Australian Bred bitch class. Half Sister Elle,Cedarrose Aussie Icon was Baby Puppy In Show and Cadie, Cedarrose Ona Blue Tempest was Opposite Puppy in Show.
We were very excited to be awarded Most Successful Dam with our beautiful girl Lucy, Ch Cedarrose Karma Suitsya.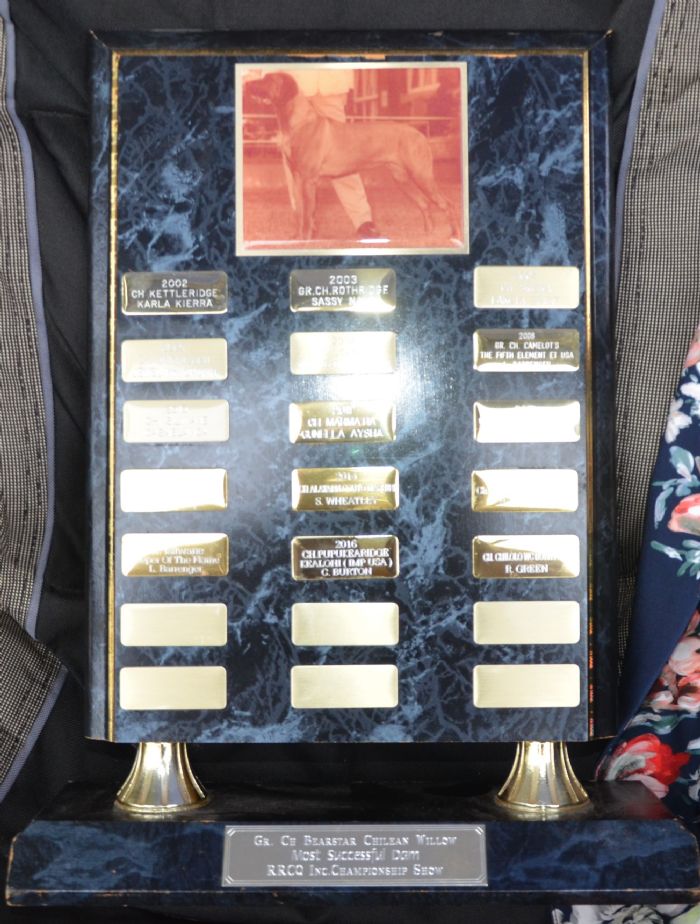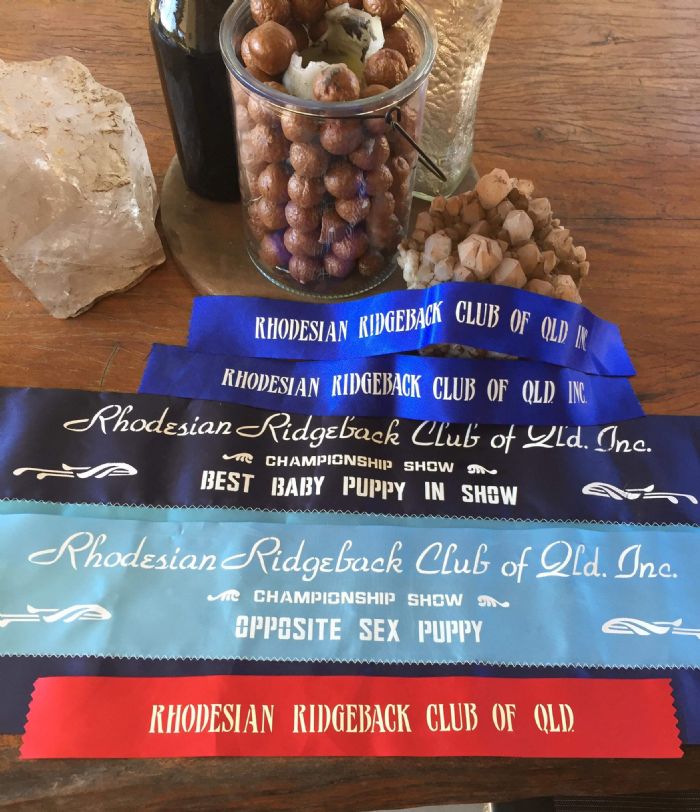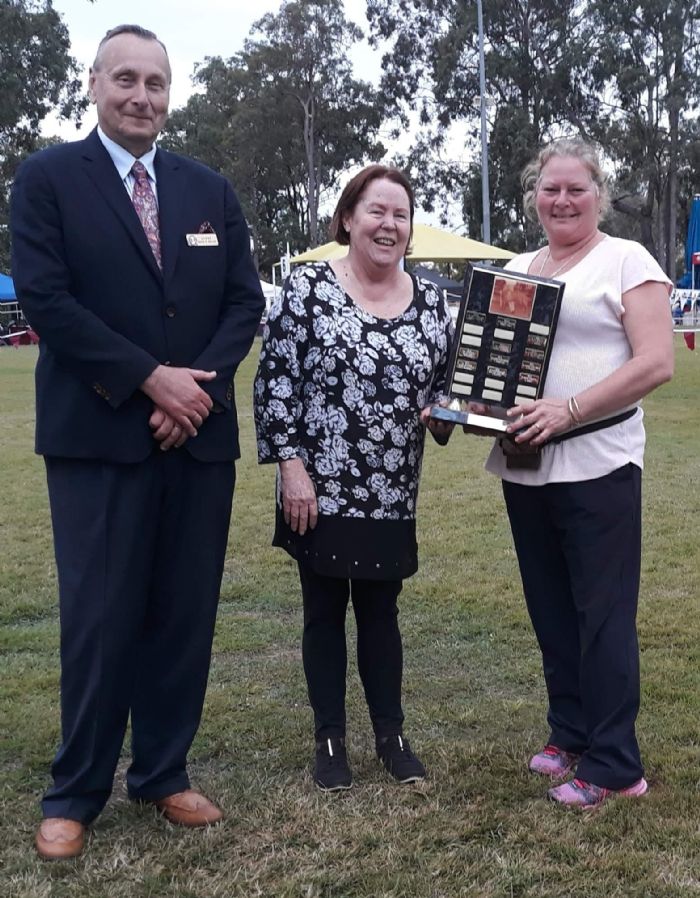 The Rhodesian Ridgeback Club 56th Championship Show 2018 Judge Ms S White Canada. Saturday Show.
Ulo, CH Cedarrose Promises Of Injabulo AI INTERMEDIATE IN SHOW and her litter
brother Jock, CH Cedarrose Ona Promise AI Opposite INTERMEDIATE IN SHOW.
The Rhodesian Ridgeback Club 57th Championship Show 2018 Judge Mr Henk Salm,
Paerdecroon Ridgebacks, Netherlands. Sunday Show.
Jock,CH Cedarrose Ona Promise AI, Opposite INTERMEDIATE IN SHOW this time to
his kennel mate Reba, Cedarrose Jumping Jewelry who was INTERMEDIATE IN
SHOW, Reserve Challenge Bitch, Best Brown Nose In Show .
Ulo, CH Cedarrose Promises Of Injabulo was second in Intermediate bitch to Reba.
Cedarrose was third most successful breeder.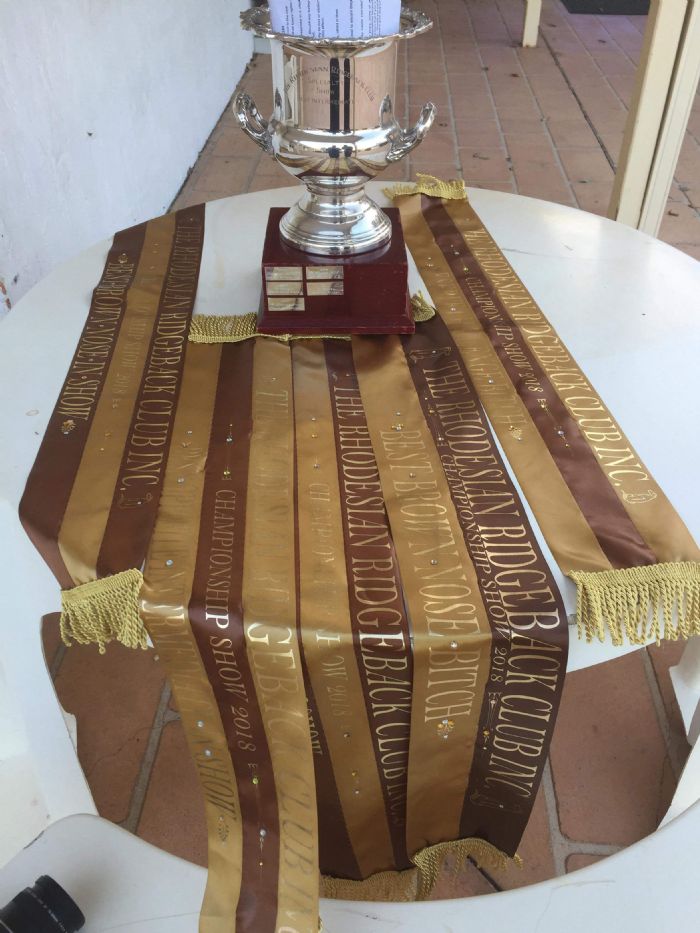 The Rhodesian Ridgeback Club 55th Championship Show 2017
Most Successful Breeder
Cedarrose Ridgebacks
Judge Mr Martin Klopsch Germany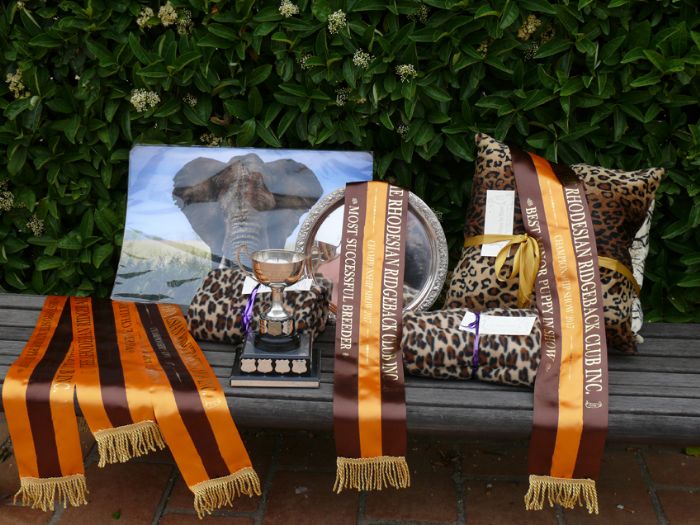 Our beautiful Kerbie Beth with one of her biggest fans, Zac. Your wings were ready, our hearts were not !
17.09.1991 - 29.09.2015
24 years young.
God speed beautiful girl xx
321325 Visitors